DATA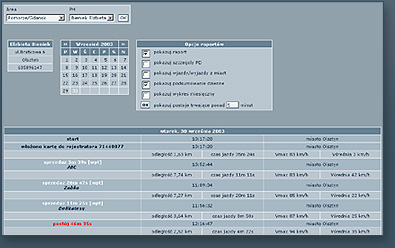 Input analysis:



track and duration of a journey



places and duration of stops



length of a journey
(calculated automatically)



sale figure (quantity and value)



impropriety warnings
(eg. deception)



available goods on stock
(stock control)



transport and job costs



speed in each part of a journey plus average speed of journey and the highest registered speed in chosen section of a journey.
System receives data straight from the satellite, this insures the data is factual. The whole process is comparative. The data is displayed in charts, schemes, comparisons and summaries. It guarantees an effective analysis and control of represen- tatives' work.

Time and financial savings are evident and are one of the main reasons of decision to buy ACRES system. It is a good investment and the return is realizable in several months from implementation.
MAIN GOAL

ACRES system was designed to reveal real costs and to input and transfer purchase orders in an easy way. Costs and income make analysis of effectiveness that is possible to be done. It can be focused on a representative or on a Point of Sale.


Apart from sales figure, system can gather other activities or events like marketing actions, our own or / and competitior's ones. All this may help managers to research the market, control their employees and make right decisions.
FLOW CHART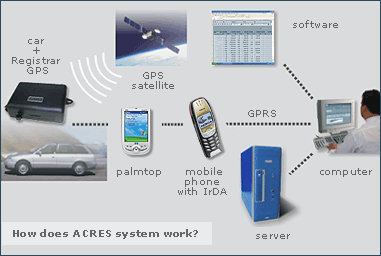 ACRES system is composed of 4 elements:




REGISTRAR GPS
assembled in the car



PALMTOP to input purchase orders
and data acquisition



MOBILE PHONE
with IrDA port
(provided by client)



SERVER with SOFTWARE.



Notice:

1) Instead of palmtop we can offer you (HI) Hand Interface device to input purchase orders. The data are not transferred through IrDA port but gathered in flash card and read (through flash card reader) into the computer periodically.

2) ANCOM does not provide client with mobile phones therefore all the charges consequent on GPRS service depend on operator's price list. If you choose HI instead of palmtop, mobile phone is not required, you can use flash card and flash card reader, available in the office.
FUNCTIONS
ACRES system functions:



stock control at anytime



direct transfer of purchase orders to supplier



cost indentification depending on genesis (places of formation)



elimination of hidden costs (while car using and representative's work)



saving on paper documents



monitoring of sales and marketing activities



Points of Sale and representatives' profitability control



complex reporting system



providing essencial information, displayed in charts, comparisons and summaries, which helps managers in making decisions



monitoring various kinds of devices, operating in the car



impropriety warnings (if something is beyond the admitted standards and procedures)



printing documents directly at the Point of Sale, no need to enter the system twice and to use traditional post office service - all this possible thanks to mobile printer as an optional accessory
OPTIONS

Additional functions are available in ACRES system, like registering some factors, for example: temperature, pressure, voltage, furthermore some facts / status, like turning on / off any device, assembled in the car. There are so many possibilities to use the system, it can be applicable in vans or trucks adapted to transport products demanding special conditions. Being aware of diversification of our prospective clients we adjust our offer according to the type of business and client's individual needs.
| | |
| --- | --- |
| | W górę | | |
| Ostatnia aktualizacja: 12.12.2006 | Design ANCOM WebStudio. ©ANCOM, ul. Śniadeckich 12a, 31-531 Kraków |